Earlier today my mom wrote to me with a positive remark about this new blog. A couple of days ago, a former student wrote the first comment to ever be posted here. Both of those were very uplifting!
Last Friday evening I met with a group of people with whom I am involved in giving talks at our Monday night prayer group. Some of them made positive observations about my participation last Monday -- when I felt I had been quite the failure. What a wonderful gift!
An encouraging remark can turn my day around. It's like seeing the sun come out after weeks of overcast weather. I can be feeling blah and start getting discouraged and even a little hopeless … and a little compliment literally changes my life at that moment. Of course I'm not the only one who is affected like this. I'm just your average gal, so this must be something pretty common to human nature. Forgive me if I'm stating the obvious here, but it's just that all this came to me in a particularly forceful way today:
sincere encouragement is life-giving
.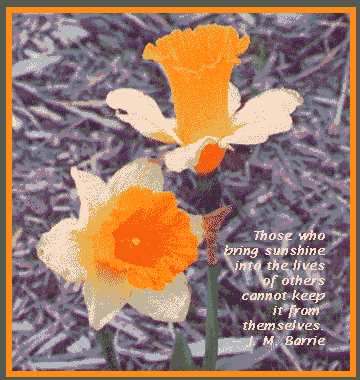 My mom is a great encourager. She was a junior high school English teacher for several years in a school district serving a large number of migrant workers. Her students certainly needed the motivation and hope she provided! Mom retired from teaching but not from giving life. Whenever I'm around her I hear her talking to other people, in person and on the phone, encouraging them to do something they've wanted to do but have not dared, or daring them to do something that they would enjoy and be good at. She encourages
me
a lot, too. She gave me life in the physical sense, and she continues to nurture it to this day. Thanks, Ma!
I need to encourage others more. I need to be lots more generous in my praise and much stingier in my criticism. I need to actively
look
for ways to be encouraging. I need to get past the lazy attitude that a person already knows that they're doing a good job and doesn't need my input. People often truly
don't
know they are on the right track, or that someone notices their efforts. We're all pretty much looking around for confirmation and support -- and cheer or two once in awhile.
We can never really know how much our actions and words affect others. They can often affect them very much -- encouragement is life-giving. Let's imaging that tomorrow a nice remark I make in passing to a colleague is the
only
positive thing they hear all day. Now let's imagine that I
don't
make that nice remark, and so they get zero positive input. I have the power within me to nurture life -- and the power to refuse to nurture it. Gulp.
Lord, help me to be encouraging!
"Therefore encourage one another and build each other up as you are already doing." -- 1 Thessalonians 5:11
(The image above is another selection from my defunt e-card site. Original photo by Joy Grose.)