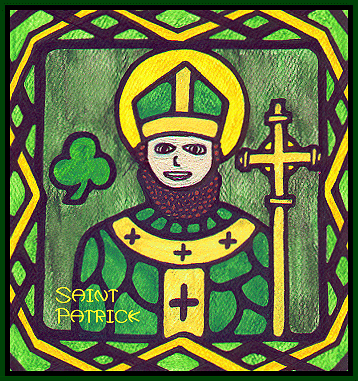 Here's a little drawing I did a few years ago to commemorate St. Patrick's Day. Back then I had a little free e-card site with my own photos and drawings, and this was one of the images you could send from there. That card site was fun and a good outlet for my creativity, but I couldn't keep it up. Maybe some day I can do it again. Anyway, so I did this with watercolor pencils and markers, trying to make this holy man look young and joyful.
St. Patrick's Day isn't celebrated here at all, but there is a very curious connection between him (or at least his name) and Mexico. Back in the 1840s the United States and Mexico were at war. A certain group of soldiers who had signed on to the U.S. army deserted and ended up fighting for the Mexican side. They were called the
Batallón de San Patricio
(St. Patrick's Batallion) because many of them were Irish immigrants. Mexican history has them pegged as great heroes. Who would have thought that there would ever be Irish soldiers on Mexican soil, huh? (You can read more about them
here
and
here
.)
One final curiosity: a lot of the men from the Batallón de San Patricio met their Maker on August 20, 1847, at the Battle of Churubusco. The place at the time was a small town outside Mexico City, though it has since been swallowed up by the capital and now is a neighborhood well within the bounds of this city. Well, in northern Indiana there is a little town called Churubusco (pop. about 1,600). Who named it that, I wonder, and why? Did they have some connection to Mexico and/or the Batallón de San Patricio, maybe? It's intriguing to speculate about this.