Yesterday dh Eddie and I visited one of my favorite museums,
Intuit
. One of the current exhibits (they change what they are showing about 3 times a year) is entitled
Least Wanted: A Century of American Mugshots, The Mark Michaelson Collection
, and consists of old photographs taken of people "booked" at police stations across the country.
( enlarge)
These are unknown, everyday folks; no big criminals or other celebrities are shown. Some are funny looking, a few are kind of pathetic, and many, many of them are, well, ordinary-looking enough that they could be me ...

( enlarge)
The most recent photos in the exhibit date back to the 1960s, and as I looked I began wondering what had happened to these people after they were booked. Where did they end up? What became of their lives? Are any of them still living? Did they have children? What happened to their children and grandchildren? Alas, we will never know. But each one of those people, just like each and every person we come into contact with in our daily lives, has a
story
, regardless of whether we ever hear it or not -- which, while an obvious fact, can be quite startling to remember.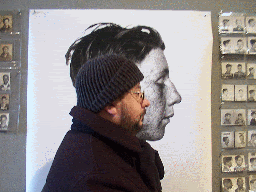 ( enlarge)
If you have a chance to see the exhibit, do so. I highly recommend this museum in general: it's very small, highly funky, and appealing to both high brows and low. Every time I have visited the place I have come away delighted, enchanted, refreshed. [
End of testimonial
]
We couldn't use flash on the photos we took there, so the pictures didn't turn out as sharp as we wanted -- but I think that somehow the slight fuzziness adds interest to these photos.
( enlarge)